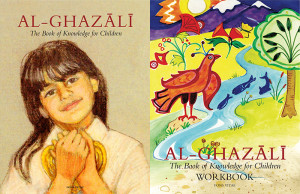 My wife recently found this fantastic resource for Islamic Children's books.  It says on their home page,
Fons Vitae ("al-Kauthar" or "fountain of life") has been translating and publishing the work of Imam Al-Ghazali for many years, and believes that our children should have the best. That's why for the past decade we have embarked on the huge task of translating all 40 volumes of Ghazali's Revival of the Islamic Sciences, as well as re-crafting those books into a children's book series so that our children can discover what's at the heart of their faith. We hope to hand back to our children the ownership and inner dignity of their spiritual lives, making it possible for them to be self-observant and self-correcting.
She originally found them here where they were raising money.
Learn more at their website Ghazali Children